Autonomic nervous system testing
«All colors of life»
Discover all the
secrets of your soul

with color testing

More than 600 parameters of your emotional and physical state are waiting for you! Sign up now!
Scientific studies show that healthy and sick people perceive colors differently. Color is not just beautiful shades, it is an electromagnetic wave that can be measured, and this data can improve psychological health and correct medical complaints. Color perception directly relates to a person's health and emotional state!
We offer a unique color test that will reveal all your health secrets with our innovative "Colors of My Life" software! The color test will not only identify your color perception. Still it will also calculate over 600 parameters of emotional, psychological, and physical well-being, including the effects of neurosis on the 27 major organs of the body.
The simplicity and ease of use of our program is impressive! You will be prompted to watch from 3 to 9 video clips of nature scenery and animals in nature. For 15 seconds, you will observe and memorize the color palette of the video clip. Then the color palette changes and the color control keys appear - Red, Yellow, Green, Blue, and Purple. You will use these keys to add or subtract the colors you want, restoring the palette as close to the original. When completely satisfied with the result, press the OK button and move on to the following clip. The test stops automatically when the program "understands" that it has enough mathematical data to work.
Simple, intuitive, and painless!
And it doesn't matter how old you are - testing is affordable even for a 4-year-old child. The test accuracy is about 94%, and the body examination takes about 60 minutes. And all this can be done online from the comfort of your home.
Feel the master of your life - take the unique color test and get accurate answers to almost all questions about your physical and emotional condition!
Sign up for an online test to receive a personalized regimen for your health and psychological issues
The Key Benefits of Color Testing: Why Take the "All Colors of Life" Paid Test
You'll get a detailed analysis of your health and emotional state without leaving your home, without fear of anyone seeing you leave the doctor's office. Our online interaction will provide you maximum privacy and protection from prying eyes.
Test Accuracy = 94%! Your brain knows best how your health and psychological condition are, and our unique technology will allow it to share that information with you!
Unique diagnostics: more than 50 psychological qualities of personality, 27 major body organs, and a total of more than 600 indicators of health. A complete picture of the impact of psychological state on health is carried out only by the best medical centers. With us, you get an in-depth analysis of your health that will help you significantly improve your quality of life!
Save from 2500 EUR on a complete health diagnosis! An average set of diagnostic measures will cost you several thousand EUR! In addition, you will save several days usually spent going to different doctors and laboratories. Color testing replaces more than 20 doctors, clinical psychologists, and psychiatrists! Get all the diagnostic procedures you need from us and save money and time!
Do you want to know about your health and psychological condition without painful procedures and tests? Our program will build a personal model of color perception, which will identify diseases and psychological problems. Trust our program and get valuable information about your body and soul!
Learn more about your brain and cognitive function with our program! The painless and non-invasive testing method will determine if different areas of your brain are regular and if you are at risk for diseases such as dementia or Alzheimer's. Get accurate and reliable information about your health and take steps to keep your brain healthy for life!
Our color testing program can help you determine your risk for cancer problems and identify which body organs are at risk. What's more, we'll help you understand how your psychological issues affect your health and suggest a personalized plan of action to minimize your cancer risks. Take our paid test and gain the valuable knowledge you need to take good care of your health!
A Comprehensive Approach to Wellness - The Key to Success! Our program considers that the body is a whole, and problems with one organ can cause all the others to malfunction. With the help of color, we successfully solve many issues: chronic pain, hypertension, insomnia, excess weight, allergies, constant fatigue, and depression - this is only a tiny part of the problems we solve for our clients. By building a model of your color perception, we will understand the cause of your emotional issues and health complaints, which means we will find a Personalized Solution for you!
We offer you personal health care at the highest level! With us, you will be protected from "hospital stress": no waiting in line at the doctor's office, no danger of catching viral diseases, no unpleasant smells, rude hospital staff, and an oppressive atmosphere of being in the company of sick people. Entrust your health to professionals who guarantee an individual approach and maximum comfort!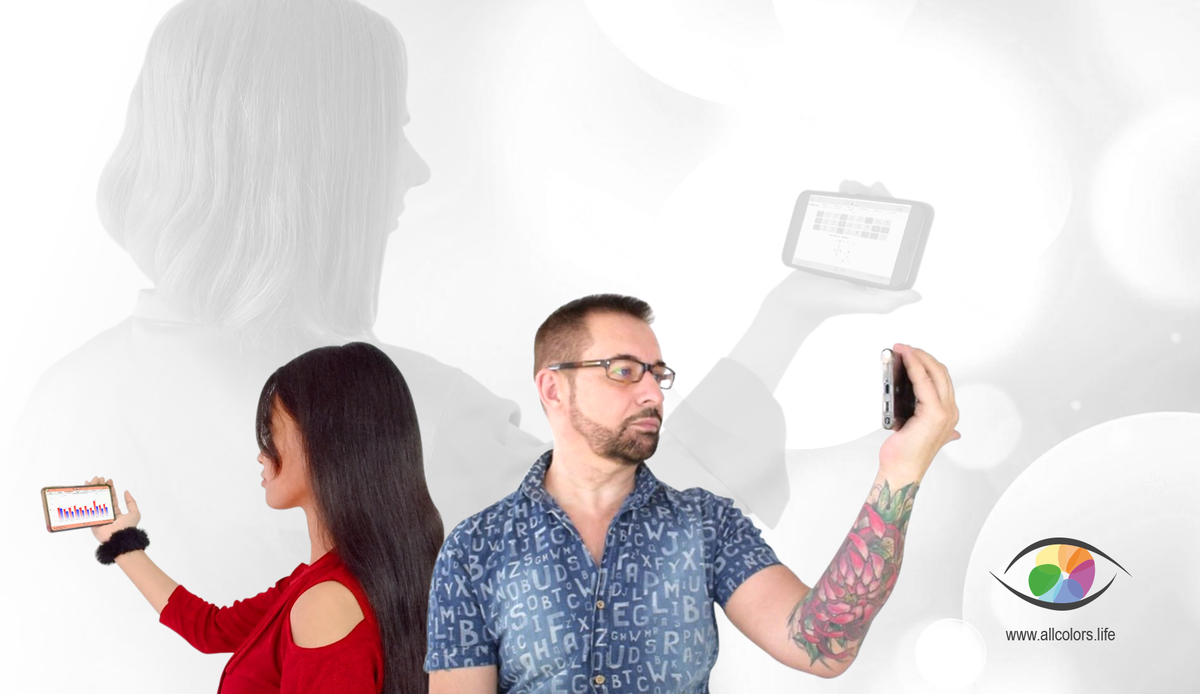 Discover the world of color and health with our color-testing technology! Analyze your color preferences and learn about hidden health and emotional issues keeping you from living your life to the fullest. Our program will build your personal color perception model and unlock all the secrets of color for your well-being!
Thanks to the "All Colors of Life" color test, understand yourself better than ever!